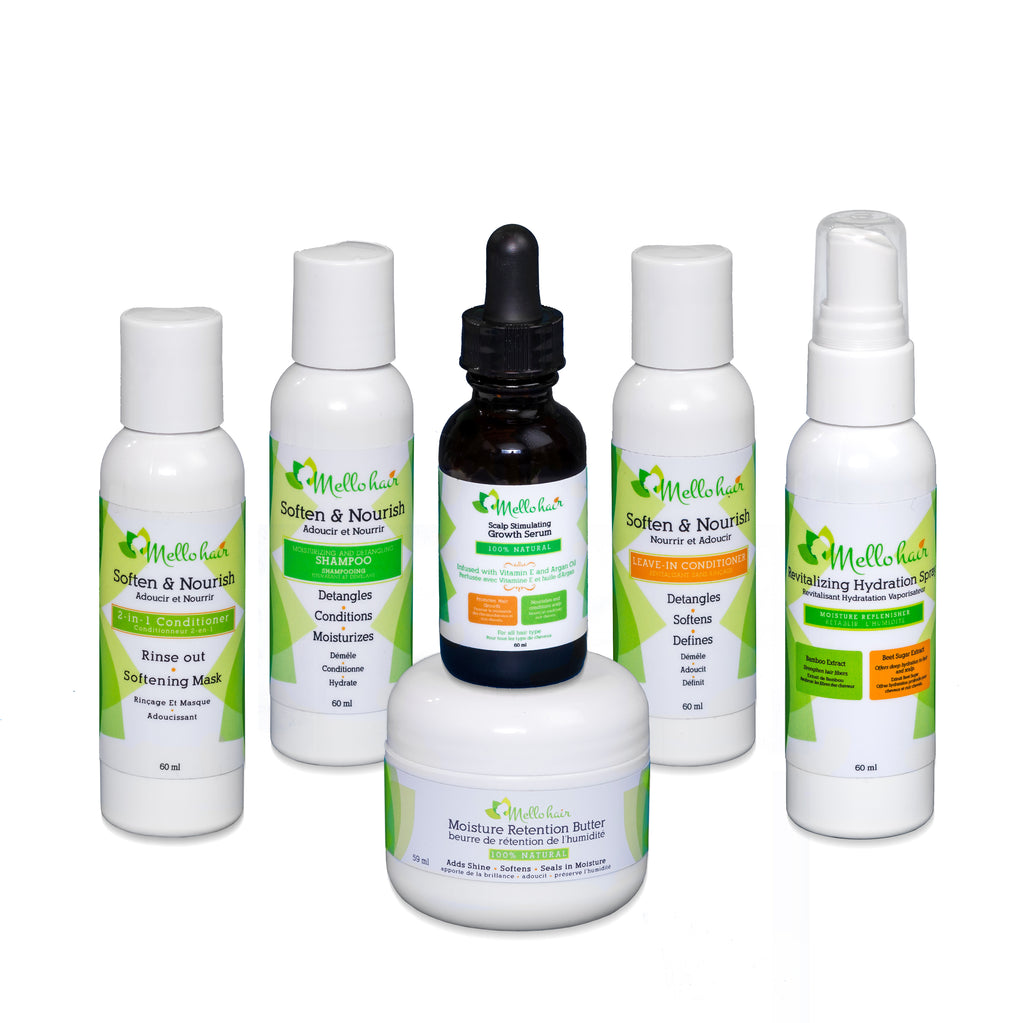 The Whole Works- Sample/Travel Size
Hydration Spray - 2 oz

Formulated for hair that is fragile, dry, easily tangle, damage, dull and lifeless. This vitamin and amino acid enriched moisturizer hydrates and enhance the hair natural shine while also increasing cellular energy resulting in hair that is touch-able softer for longer. For all hair types.

The highest quality hair moisturizer on the market.

Restores shine
Reduce breakage
Hydrate at the core
Nourishes and strengthen


Moisture Retention Butter. - 2 oz

Is your hair dry, lacks life and shine, then this product is for you. This product softens, add shine and nourishes the hair all at the same time. So powerful just a small amount goes along way and it never leave your hair feeling greasy.

This product is 100% natural and the highest quality hair butter on the market.

Full of all the necessary vitamins that your hair needs to penetrate the hair shaft leaving your hair feeling softer and rejuvenated for longer.

Promotes growth and retention
Nourishes the scalp
Restores shine
Reduce breakage
Strengthens
Scalp Stimulating Growth Serum: 1 oz
Scalp Stimulating Growth Serum is a natural growth stimulating serum made to increase blood circulation to the scalp. Formulated to deeply penetrate the scalp and stimulate slow and inactive hair follicles. Our growth serum transforms your scalp into the best environment to support hair growth.
Fights dry scalp
Combat hair loss
Promotes hair growth
Nourishes and conditions the scalp
Used as a hot oil treatment
Used on the ends of hair to help prevent split ends
Leave-in Conditioner - 2 oz
This product is formulated to hydrate, moisturize, soften and provide essential nutrients to the hair and scalp. Lightweight and won't weight your hair down. It will keep your hair softer for longer while offering some definition.
Can be used on all curl types.
Benefits
• Leaves hair feeling soft 
• Detangles 
• Define curls
• Moisturizes hair 
• Adds shine
• Supports growth retention
• Can be used as a light styler for those with thin or wavy hair
Provide essential nutrients to encourage growth and retain moisture.
Shampoo -2 oz
Conditioner- 2 oz


Directions & Ingredients: Listed on individual product page.


---
Share this Product